Stenographer is one of the popular fields among a lot of students. There are various levels of stenographer courses available in the market. ITI Stenographer is one of them. ITI Stenographer is a short term vocational trade of a duration of 1 year. Many students do this course after 10th.
Are you one of those who are interested in the ITI Stenography Course? If yes, and searching for the details of ITI stenographer or stenography course then you are at the right place. In this article, I will discuss the complete details of the Stenographer ITI course.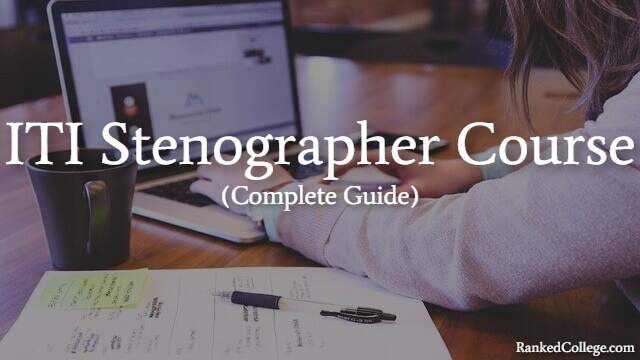 ITI Stenographer Course: Overview
Course
ITI (Industrial Training Institutes)
Course Name
ITI in Stenographer Secretarial Assistant
Course Level
Certificate
Course Duration
1 Year
Eligibility
10th or Equivalent
Admission
Direct/Merit/Entrance
Course Fees
₹5,000 – ₹10,000 (Government)
₹10,000 – ₹50,000 (Private)
Salary
₹1,20,000 – ₹2,40,000 per annum
What is Stenography Course in ITI?
It is a one-year non-engineering course in ITI known as ITI Stenographer. A stenographer is a person whose job is to transcribe spoken words by typing them into a stenotype machine i.e. shorthand typewriter. In this ITI Stenographer course, you will be taught about this skill through practical and theoretical means. Also, a stenographer is also known as stenography or steno.
The ITI stenographer course comes under the Craftsman Training Scheme (CTS) which is constituted under the Directorate General of Training (DGT), Ministry of Skill Development and Entrepreneurship.
Two types of stenographer courses in ITI are generally opted for by the candidates, one is ITI Stenographer (English) and the other is Stenographer (Hindi). You can choose based on your interest. In the stenographer (English) course, candidates have to learn transcription in the English language whereas, in Stenographer (Hindi) course, candidates have to learn transcription in the Hindi language.
Whatever you take, within the course, you will be taught some chapters of grammar, communication skills, writing skills, uses of computer operating systems, use of the internet, Email, MS Office, etc. The main focus of this course is to teach about typing skills i.e. you have learned fast typing on a keyboard or typing machine. You will also be taught how to process dairy using various office documents, file management, dispatch register, etc. Basically, you will be taught all types of office work.
ITI Stenographer Eligibility
The candidates who want to take admission to the ITI stenographer course must have to full fill these below eligibility criteria:
The candidates must have passed in 10th standard or equivalent exam.
The candidates should be passed by a recognized board of education.
Candidates should be minimum of 14 years of age.
ITI Stenography Course Duration
The duration of the ITI stenography or stenographer trade course is 1 year.
Duration:- 1 Year
ITI Stenographer Syllabus
| S No. | ITI Stenographer Subject |
| --- | --- |
| 1. | Trade Practical |
| 2. | Trade Theory |
| 3. | Employability Skills |
| 4. | Workshop |
ITI Stenographer English Syllabus
Professional Knowledge (Trade Theory)
Introduction to Shorthand, Consonants
Vowels
Computer Fundamentals
Computer Hardware
Software
Computer Keyboard Functions and its Operations
Computer Keyboard Operations
Grammar Voice
Computer Speed Tying
Punctuation
Initial Small Hooks
Halving Principles
Doubling Principles
Simple Letter Writing
Introduction of MS-Excel
Application Writing
Professional Skills (Trade Practical)
Awareness of the computer hardware
Long and Short Vowels
Spelling practice using English Dictionary
Computer Typing
Computer Speed Typing
Demonstrate Halving Principles
Calculate Speed Typing on Computer
The practice of One Word Substitution
Practice MS Office
Use of Anti Virus
E-Mail Management
ITI Stenographer Hindi Syllabus
You can check and download the complete syllabus of ITI Stenographer (Hindi) by visiting this PDF – ITI Stenographer (Hindi) Syllabus
ITI Stenographer Admission 2021
Admission to the ITI stenographer course varies from institute to institute. Generally, private ITI institutes take direct admission without taking any entrance exam whereas the majority of the government ITI institute take admission on the basis of a merit list or entrance exam. So it depends. The application date for admission to government ITI institutes varies from state to state. Every state released the application form on their preferred date. So, you can check the dates by visiting the official website of your state board of education. Also, if you want to take admission to a private ITI institute then you visit the institute and get all the information related to your query.
Merit-Based Admission:- In merit-based admission, the selection process is done on the basis of a merit list and the merit list is based on the basis of the candidate's results which they get in their previous examination. So, if you get good marks in 10th or equivalent exam then the chances of your selection are high.
Entrance Based Admission:- In entrance based admission, candidates have to take an entrance test which is conducted by respected authorities. After the result came, candidates have to attain the counselling round which is also conducted by the board authorities. In the counselling round, a counsellor allotted you an ITI stenographer course from a government ITI institute which is based on your performance in the entrance exam.
ITI Stenography Course Fees
The course fees for the ITI stenography trade depend on the institute to institute. Government ITI institutes have lesser course fees as compared to private ITI institutes. However, I give an idea about the average course fees for the ITI stenography course:
Average Government Fees:- ₹5,000 – ₹10,000
Average Private Fees:- ₹10,000 – ₹50,000
ITI Stenographer Jobs
After the completion of the ITI stenographer course, you can find a job in both the government sector and the private sector. You can get a job in any company type of company as a stenographer. There are many companies that released vacancies for stenographers. You can apply based on your interest. You can also go to jobs portal websites on the internet and search for jobs related to stenographers. You can easily get a good job from those jobs portal. ITI stenographer is a job-oriented course. Some of the jobs profile in which you may work as:
Stenographer
Steno Secretary
Data Entry Operator
Steno Typist
Office Assistant
ITI Stenographer Salary
The average salary that an ITI stenographer gets in a job is 10,000 to 20,000 INR monthly i.e. Rs1,20,000 to Rs2,40,000 yearly.
Average Salary:- ₹10,000 to ₹20,000 per month.
Career Options after ITI Stenography
You can go for a diploma in stenographer course after ITI stenographer.
You can go for other ITI level courses.
You can go for other diploma level courses.
You can go for your higher studies.
You can work in any company.
You can start your own business.
Frequently Asked Questions (FAQs)
What is the duration of ITI stenography course?
The duration of the ITI stenography course is 1 year.
I have completed ITI in stenography can I apply SSC stenographer vacancy?
If your age lies between 18 to 30 and you also completed an intermediate course then you are eligible to apply for SSC stenographer.
Can I get admission in ITI stenography after 8th?
No, you have to 10th or equivalent exam passed in order to get admission to the ITI stenography course.