Are you interested in pursuing ITI Architectural Drugsmanship course? If yes, and looking forward to knowing the complete details of Architectural draughtsman course then I would like to tell you that you visited the right site because, In this article, I will provide the complete info of Architectural Draughtsmanship ITI course.
Architectural Draughtsman is a basic-level course running under the Craftsman Training Scheme (CTS). The duration of the Architectural Draughtsman ITI course is 2 years. Truth be told, this is not a very popular course and only a few students do this course, who are interested in learning this skill. The minimum eligibility criteria to take admission in this course is 10th pass.
There are government and private ITI colleges that offer this course. You can complete this course from an ITI college near to your home that offers this course. However, the admission procedure may vary from government college to private college.
Architectural Draughtsmanship Course: Overview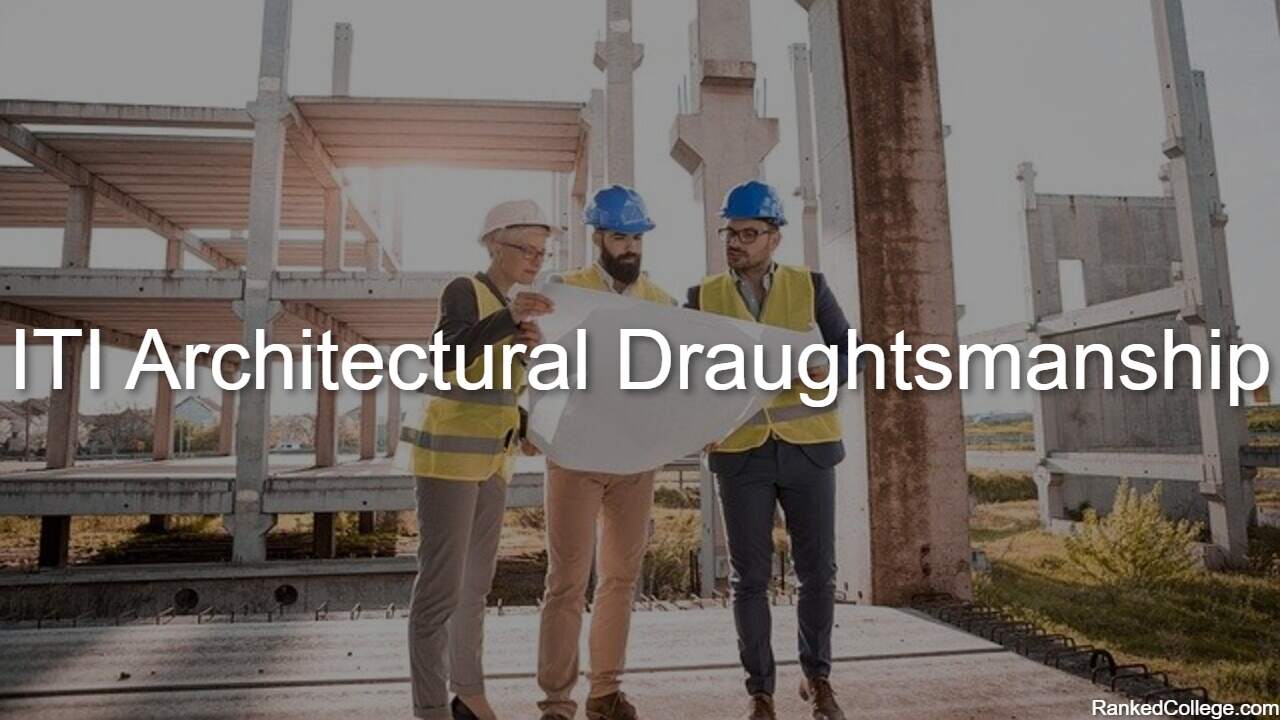 Course
Industrial Training Institute (ITI)
Trade Name
Architectural Draughtsmanship
Level of Course
Certificate
Duration
2 Years
Eligibility
10th Pass
Admission Procedure
Direct/Merit/Entrance Test
Course Fees
₹500 – ₹5,000 (Government)
₹5,000 – ₹50,000 (Private)
Jobs Salary
₹8,000 to ₹10,000 per month
Architectural Draughtsman Course Details
Architectural Draughtsman is a 2 years skill-based job oriented course. It is a basic level course which deals with the study of construction, sketching, plane geometry, design, and many more. Basically, in this course, you will be taught about sketching and drawing construction projects, and architectural symbols. It is a sub-branch of civil that focus on civil architecture.
This course is very much similar to ITI draughtsman civil course. While doing this course, you will learn about many terms related to construction and also know what safety measures we need to follow when visiting an ongoing construction site.
ITI architectural draughtsman is a job-oriented course which offers good employment opportunities after the completion of the course. There are construction companies in both private as well as government sectors that release vacancies for architectural draughtsman holders. You can also go for higher studies by taking a similar course like a diploma in civil engineering if you don't want to do a job.
Architectural Draughtsmanship Eligibility
Candidates must fulfil these eligibility criteria because these points are necessary in order to take admission to ITI architectural draughtsmanship course. Eligibility criteria are as follows:
Candidates must have passed 10th or any equivalent exam from a recognized board of education.
Candidates should score at least 40% marks in their respective examinations.
12th-pass students are also eligible to take admission.
Candidates must be above 15 years of age.
Architectural Draughtsmanship Course Duration
The duration of the ITI architectural draughtsman course is 2 years and the curriculum is divided into two parts. Each part consists of one year of duration.
Course Duration:- 2 Years
Architectural Draughtsmanship Admission Procedure
The admission procedure for ITI architectural draughtsmanship course depends on college to college. In some state government ITI colleges, admission is done via an ITI entrance exam which was conducted by the respective state education board whereas, in some states, the admission for ITI courses is done on the basis of a merit list which was released by the respective state education board. As far as private ITI colleges are concerned, most of the private ITI colleges take direct admission without any entrance exam.
I hope you know the basic steps which every candidate has to do such as form filling, registration, fee payment, etc.
Note:- Application form or registration fee may fluctuate from institute to institute.
ITI Architectural Draughtsman Course Fees
The course fees for the architectural draughtsman trade mainly depend on college type. If you take a complete architectural draughtsman course from a government ITI college then your fees will be lesser as compared to a private ITI college. However, course fees may vary from one state government college to another state government college.
Government College:- ₹500 – ₹5,000
Private College:- ₹5,000 – ₹50,000
Architectural Draughtsman ITI Syllabus
| S No. | Architectural Draughtsman Subjects |
| --- | --- |
| 1. | Professional Skill (Practical) |
| 2. | Professional Knowledge (Theory) |
| 3. | Workshop Calculation & Science |
| 4. | Employability Skills |
1st Year Syllabus
Professional Knowledge
Orientation
Familiarization with engineering drawing, tools and equipment
Architectural symbols
Uses in the drawings
Sketching techniques
Elements of drafting
Pencil grades
Method of pencil uses
Lines used for sketching
Solids
Types of projections
Isometric view
Brick masonry
Stone Masonry
Foundation
Carpentry joints
Doors
Windows
Lintels
Arches
Factors considered in architectural design
Damp proof course (DPC)
Anti-termite treatment
Stairs
Floors and flooring
History of architecture
Egyptian architecture
Greek architecture
Roman architecture
Indian architecture
Professional Skills
Familiarization
Architectural symbols
Sketching
Plane geometry
Dimensioning
Introduction to orthographic projections
Coursed and uncoursed rubble masonry
Type of foundation
Carpentry joints
CAD
Projection of solids in inclined positions
Section of solids
Introduction to design
Preliminary drawing
Advanced CAD
Final design
Surface development
2nd Year Syllabus
Professional Knowledge
Factors considered in architectural design
Environmental factors considered in architectural design
Special doors
Special windows
Roof and roof coverings
Case study
Climatic responsive design
Expansion joints and construction joints
Green architecture
Professional Skills
Introduction to design
Case study of a similar project to be done
Preliminary drawing
Introduction to 3D in sketch-up software
Type of doors
Type of windows
Roof and roof coverings
Final design
Working drawing
Anthropometrics of commercial building
Preliminary drawing
Joints in structure
Rendering in Photoshop
Kitchen Layout
DWV details
Architectural Draughtsman Jobs
After the completion of ITI in architectural draughtsman course, you can get good job opportunities. The future scope of architectural draughtsman also seems bright because the real estate sector is growing day by day. As a result, it also creates a lot of employment opportunities. You can apply for architectural draughtsman posts in many private companies after completing your course. Many construction companies release vacancies on online job portal sites.
Architectural Draughtsman Salary in India
The salary of an ITI architectural draughtsman depends on various factors. On average a fresher civil draughtsman gets around ₹8,000 to ₹10,000 per month. The salary will increase with time.
Average Salary:- ₹8,000 to ₹10,000 per month
What to do after ITI Architectural Draughtsman
You can go for higher education after the completion of this course.
You can do a job.
You can pursue other vocational courses.
You can do diploma level courses after ITI architectural draughtsman.
You can complete 10+2.
You can start your own business.
You can start preparing for competitive examinations.
Frequently Asked Questions (FAQs)
What is the duration of ITI Architectural Draughtsmanship course?
The duration of the ITI architectural draughtsmanship course is 2 years.
Girls can do an architectural draughtsman course?
Yes, girls candidates are eligible to do an architectural draughtsman course.
Can I get job after completing ITI architectural draughtsman course?
Yes, you can get a job after ITI architectural draughtsman course. However, you may feel the salary is low.