Want to become a foundryman and for that search the course details of ITI foundryman? If yes, then you are in the right place. In this article, I will discuss the complete info about the foundryman trade in ITI. So stick to this article till the end.
ITI foundryman is a skill-based vocational course which is spread all over the nation through the network of ITIs. It is a short-term trade consists only 1 year of duration. During the study, you will know all the basic aspects of the ITI foundryman trade. Students mainly prefer this trade because they have an interest in this type of field or they just want to pursue this course for a job.
The minimum academic qualification that students need to enrol in this trade is 10th. However, students who completed higher studies also are eligible to do this course. This course provides job opportunities in factories and industries when you successfully complete this course. Let's see the various details of foundryman ITI one by one.
Foundryman ITI Course: Overview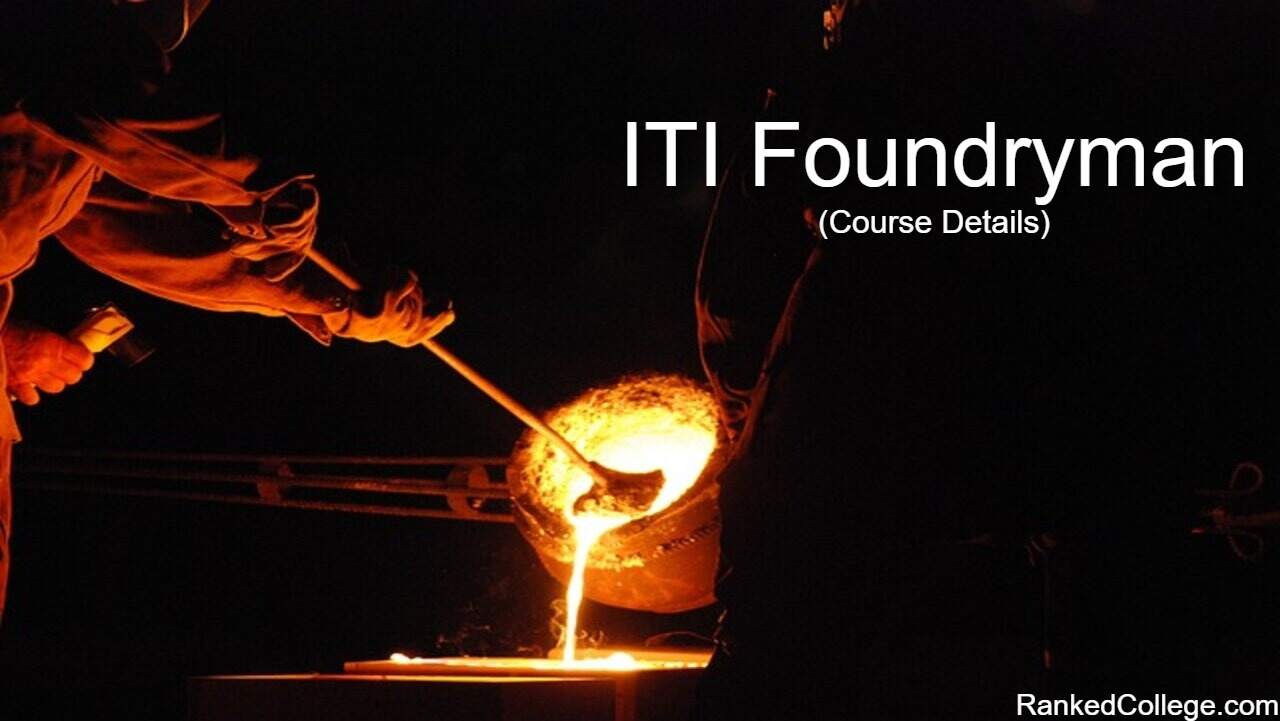 Course
ITI (Industrial Training Institute)
Trade Name
Foundryman
Level of Course
Certificate
Course Duration
1 Year
Eligibility
10th
Admission
Direct/Merit/Entrance
Course Fees
₹2,000 – ₹20,000 (Government)
₹5,000 – ₹50,000 (Private)
Jobs Salary
₹10,000 to ₹15,000 per month
What is foundryman in ITI?
Foundryman is a trade in ITI in which students study sand testing, woodworking, safety precautions, hand tools, unit sand, pit furnace, moulding process, core, gating system, metalworking, induction furnace, such casting process, settling of casting, binders, iron ore, common cast iron, wrought iron, foundry mechanization, and many more terms which related to foundryman.
It is a 1-year duration course in which you understand how to prepare the sand, mould, and core by using different furnaces, the importance of personal protection & fire safety, operating as a semi-aptitude labourer in a foundry shop floor, different raw materials used in foundry industries, tools & equipment used in foundry, the importance of hardness test, advantage and disadvantage of the sand mould, etc.
ITI foundryman is a job-oriented course having job opportunities after successfully accomplishing this course. You can find a job vacancy similar to a foundryman on job portal websites. The salary you get in your job as a fresher may seem low to you, but as time passes, the salary also increases.
Foundryman ITI Course Eligibility
Candidates who are interested in taking admission to this course have to fulfil these eligibility criteria. The eligibility criteria are as follows:
Candidates must pass in 10th standard.
Candidates should qualify 10th from a recognized board of education.
Candidates should get at least 40% marks in their examination.
Candidates must be above 15 years of age.
Foundryman ITI Course Duration
The duration of the ITI foundryman course is 1 year.
| Course Element | Hours |
| --- | --- |
| 1. Professional Skill (Trade Practical) | 1000 |
| 2. Professional Knowledge (Trade Theory) | 280 |
| 3. Workshop Calculation & Science | 80 |
| 4. Engineering Drawing | 80 |
| 5. Employability Skills | 160 |
| Total | 1600 |
ITI Foundryman Syllabus
Professional Skills
First aid method and basic training
Safe disposal of waste materials
Hazard identification and avoidance
Safety signs for danger
Preventive measures for electrical accidents
Use of fire extinguishers
Safe use of tools and equipments
Various raw materials used in foundry
Make green sand mixture
Find out clay content of sand
Universal testing machine
Prepare facing and backing sand
Prepare mould with vertical core
Chair core and assemble in the mould
Prepare dry sand mould with skeleton pattern
Repair wooden patterns
Metal working
Drilling on various metals
Fettle the casting
Prepare simple CO2 mould
Make a casting by C.I.
Make casting with aluminium
Prepare mould with ring gate
Reline the pit furnace
Reline of ladle
Pre heat of ladle
Prepare oil sand core by IVP
Make mould by ram up core
Calculation yield percentage
Prepare simple casting with binder less dry sand process
Professional Knowledge
Importance of safety and general precautions
Introduction of first aid
Introduction of PPEs
Response to emergencies
Importance of housekeeping
Introduction to 5S concepts
Occupational safety & health
Basic understanding on hot work
History of foundry industries
Importance of foundry industries
Advantage of metal casting
Different tools & equipments
Specification tools & equipments
Making of green sand mixture
Special casting process
Importance of hardness test
Different types of gate cutting
Difference between natural and synthetic moulding
Types of mould
Self-core making procedure
Advantage and disadvantage of green sand mould
Moulding process
Core making machines
Different types of coating on mould cores
Gating system
Brief description
Prerequisites of gating system
Types of grinders
Induction furnace types
Description of dry sand mould
Slush casting process
Fins & unwanted projection
Binders
Classification of irons ores
Different gating system
Common cost iron-alloys
Effect of alloying elements for ferrous metals
Advantages of sprue gate & skim bob gates
Heat treatment of casting
Calculation of ferrostatic pressure
Foundry mechanization
Foundryman ITI Course Fees
The course fees you have to pay when you do an ITI foundryman course are mainly depending on which type of ITI college you take admission. If you do a foundryman trade from a government ITI college, then your course fees are lesser than compared to a private ITI college. Average fees for both types of institutes are as follows:
Governement ITI:- ₹2,000 – ₹20,000
Private ITI:- ₹5,000 – ₹50,000
ITI Foundryman Salary
The average salary that a fresher would get after successfully qualify the ITI foundryman course is as follows:
Average Salary:- ₹10,000 to ₹15,000 per month
Frequently Asked Questions (FAQs)
What is the duration of ITI foundryman?
The duration of ITI foundryman course is 1 year.
Can I get job after ITI foundryman?
Yes, you can get employment opportunities after completing ITI foundryman course.
Girls can do ITI foundryman course?
Yes, of course, girls candidates can pursue the ITI foundryman course.