Nursery Teacher Training is a diploma program that students pursue after completion of the 12th standard. Nursery Teacher Training course is popularly known as Diploma in NTT course. It is one of the popular and demanding courses among students who want to become preschool teachers.
Students whose aim is to make their career in the teaching field or give their participation in the formal education of children prefer this course to be done. Students who completed their 10+2 from a recognized board are eligible for this NTT course. However, graduates, pass-out students and those presently working as teachers are also eligible to do this course.
The duration of the diploma in a nursery training course is 1 year. Both governments, as well as private institutes, offer this NTT course to students. Students can do this NTT course in online mode as well, many institutes provide distance mode learning via online classes but students must attend the physical training period of this course. The training period is very important for the candidates because in the training period candidates get practical experience in teaching.
In this article, I will discuss the details of the diploma in a nursery training course or diploma in NTT courses like its eligibility, syllabus, admission process, career options, job scope, NTT course fees, colleges, and many more.
Nursery Teacher Training (NTT) Course: Overview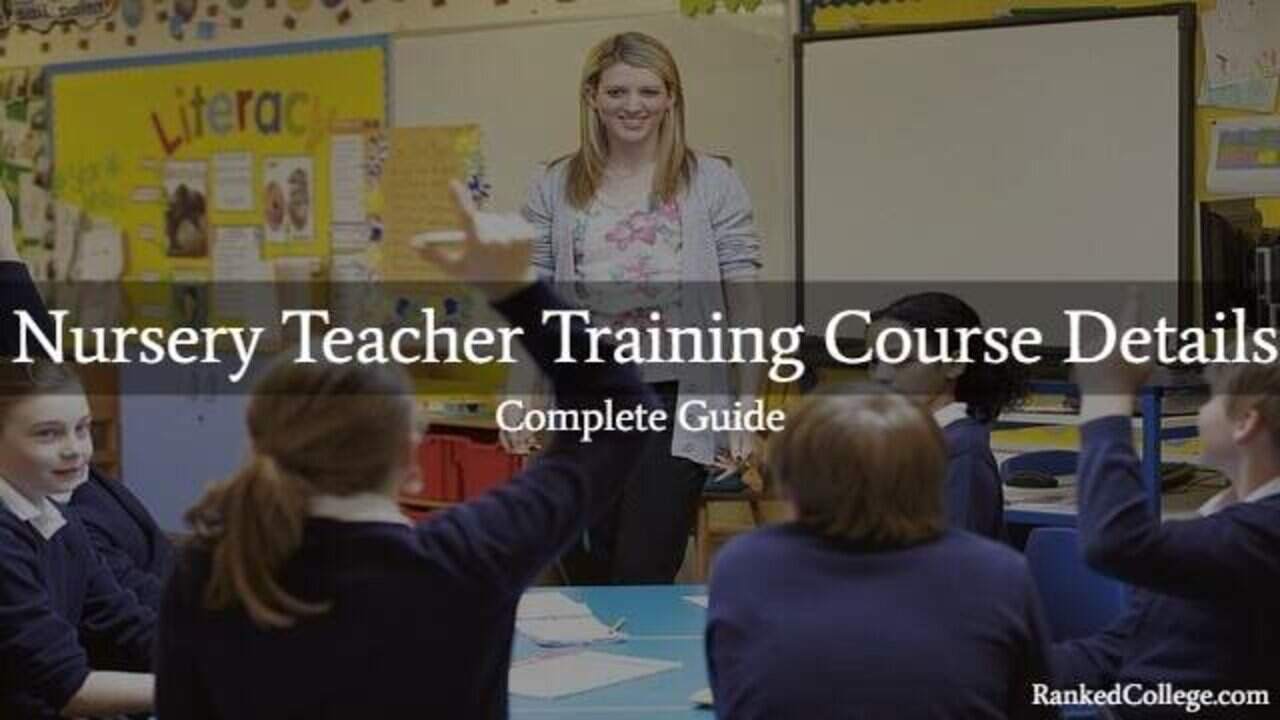 NTT Full Form
Nursery Teacher Training
Course Name
Nursery Teacher Training (NTT)
Course Level
Diploma
Course Duration
1 Year
No of Semester
2 Semesters (6 Month Each)
Eligibility
10+2 or Equivalent
Admission
Merit/Entrance Examination
Course Fees
₹5000 – ₹20,000 (Government)
₹5,000 – ₹50,000 (Private)
Salary
₹2,00,000 to ₹4,00,000 per annum
What is Nursery Teacher Training (NTT) Course?
Nursery Teacher Training is a diploma program of duration 1 year. The NTT course's purpose is to cater to the nursery (pre-primary) level teacher workforce in India. The NTT course is all about how to teach children in nursery classes in an energetic environment. In this course, you will get in-depth study in the field of child education, child psychology, childcare, cognitive development, instructional strategies, playing activities, and communication with children.
Nursery is a preschool in which children first interact with other children. It is a class where a teacher has to be skilled so that teacher provides the best education to children who have just stepped into the world of formal education. Teachers interact with young students in a good communication way so that young students learn well cultured, good habits, and good behaviour in their life.
Nursery Teacher Training course is an undergraduate course in which you can take admission either by merit list or through entrance examination. If you take this NTT course after 12th and completed it then you get a diploma certificate in nursery teacher training. Using this certificate you can get a lot of job opportunities.
NTT Course Eligibility Criteria
Candidates who want to take admitted to this NTT course from college must full fill these below eligibility. The NTT course qualification you need is as follows:
Candidates should have passed 12th or equivalent examinations from a recognized education board.
Candidates must have secured at least 50% marks in their qualifying examination.
Diploma holder candidates are also eligible to apply for this course.
NTT Course Duration
The duration of this diploma in nursery teacher training course is 1 year and the course contain 2 semesters, each semester has 6 months of duration.
Duration:- 1 Year (2 Semesters)
NTT Course Admission Process
Admission to nursery teacher training courses is done in two types of ways. One is merit list-based admission and another is entrance examination-based admission. In India, some colleges take merit-based admission whereas some colleges conduct their own entrance exams for admission. So, the admission types depend on college to college. I will explain the basic admission process or procedure in simple short steps.
Entrance-Based Admission for NTT Course
Some colleges take their entrance exam before admission. So, In order to take admitted to the NTT course in the college then he will have to qualify for the entrance examination. The process of applying for the entrance exam form is as follows:
Step 1 – Go to the official website of the college.
Step 2 – Search the entrance exam form and open it on your web.
Step 3 – Fill up the form by submitting your details such as

Your Full Name
Father Name
Your Address
Your aadhaar number
Your mobile number
Date of Birth (DOB)
Qualification
Category

Step 4 – After submitting the form go to the next page.
Step 5 – Upload your document that is written in the instruction box.

Aahar Photo
Marksheet
Transfer Certificate
Passport Size Photographs
Your Signature on White Page
Your Thumb Press in White Page

Step 6 – Now pay the entrance form fee by digital payment like UPI, debit card, credit card, net banking, mobile banking, etc.
Step 7 – After completing all these steps you get a form submitted receipt.
After a couple of days, the college authorities will release the exam date and exam centre. Visit the exam centre on the exam date and give you the entrance exam. After a week the result is declared by the respected authorities. On the basis of your results, you get admission.
Merit-Based Admission for NTT Course
Some colleges take admission on the basis of merit lists. The process or procedure to apply for the admission form is the same as written above. In merit list admission you can get admission when your name comes on the merit list and the merit list is made on the basis of how much percentage has come in 12th of the candidates.
NTT Course Syllabus
Basics of the pre-primary education
Environment Sciences
Language and Literacy
Numeracy and logic
Motor skills and physical development
Aesthetics and creative expression
Social and emotional development
Child Psychology
Child Care and Health
History and Philosophy of pre-primary education
Teaching Methodology
Nursery School Organization, Child Health, and Nutrition and Community
Practical: Arts and Crafts
Practical: Viva Voice
Nursery Teacher Training Course (NTT) Fees
The fee for a diploma in a nursery teacher training course varies from college to college. Generally, government colleges have lesser fees as compared to private colleges. On average NTT course fees are as follows:
Average Government Fees:- ₹5,000 to ₹20,000
Average Private Fees:- ₹5,000 to ₹50,000
NTT Course Jobs Opportunities
Job opportunities for students who completed this NTT course successfully are good. You can easily get a job in any school, educational institute, Kendriya Vidyalaya, childcare centres, NGO, etc. The demand for nursery teachers is relatively high. There is a shortage of well-skilled teachers for children in the market. You can become a tutor. You can also start your own preschool. A teacher is a career that never ends.
Average Jobs Salary:- ₹2,00,000 to ₹4,00,000 per annum.
Job Area
Job Profile
• Educational Institutions
• Government School
• Private School
• Coaching Centers
• Child Care Centers
• NGOs
• Nursery Teacher
• Nursery Curriculum Developer
• Tutor
• Nursery Teacher Assistant
• Babysitter
• Co-ordinator
Career Options after NTT Course
You can go for higher studies.
You can do a master's in Teacher Training.
You can do other diploma courses.
You can start your own coaching centre or school.
You can become a teacher in any educational institution.
Nursery Teacher Training Course Colleges
| | |
| --- | --- |
| Mahatma Gandhi College of Education, South Delhi Campus | New Delhi |
| Delhi Institute of Early Childhood Care and Education | New Delhi |
| Bhavan's Nursery Teachers Training College | Kochi, Kerala |
| Kastooribha Gandhi Nursery Teachers Training College | Namakkal, Tamil Nadu |
| Marthoma Nursery Teacher Training Institute | Kerala |
| Nursery Teachers Training School | Nagpur |
| AP Teacher Training Institute | Bangalore |
| Asian College of Teachers | Pune |
| National Education Society of India (NESI) | New Delhi |
| Jayoti Vidyapeeth Women's University (JVWU) | Jaipur |
Frequently Asked Questions (FAQs)
What is the salary of an NTT teacher?
The average salary of NTT teachers is around ₹2,00,000 to ₹4,00,000 per annum.
What are the fees for the NTT course?
The average fees of NTT course for government institutions and private institutes are as follow:
Average government fees – ₹5,000 to ₹20,000
Average private fees – ₹5,000 to ₹50,000.
What is the full form of the NTT course?
The full form of the NTT course in the Nursery Teacher Training course.
What is the minimum qualification required for the NTT course?
The minimum qualification required for the NTT course is 10+2 passed.
How many semesters are there in the NTT course?
There are 2 semesters there in the NTT course.
What can I do after the NTT course?
You can go for your higher studies or you can work in any educational institutes.