Learning methods are changing with the growth of digitization among people. Earlier there was only an offline medium such as schools, colleges and institutes where people used to learn and acquire knowledge but now a lot of people are learning new skills by taking online courses. During the COVID-19 pandemic, online learning has also emerged as the safest and most convenient mode of learning.
There are many students who want to do short-term online courses after 12th which are also job oriented in nature in their free time. Are you one of those students who are looking for the best free online courses with certificates after 12th? If yes, then I would like to tell you that you have come to the right website because, in this blog post, I will be discussing the list of online skill-oriented courses after 12th which you can do in your spare time.
There are mainly three types of online courses that most students can pursue after passing 12th i.e. Online Certificate Courses, Online Diploma Courses and Online Degree Courses. Online certificate and online diploma courses are mostly of short duration while degree-level courses are of longer duration.
Also, I want to make sure that it does not matter whether a student comes from the Science stream Commerce stream Arts stream or other streams, most online courses can be pursued by students of all streams.
Without any further delay, let us move to the list of online courses after 12th one by one.
Best Online Courses after 12th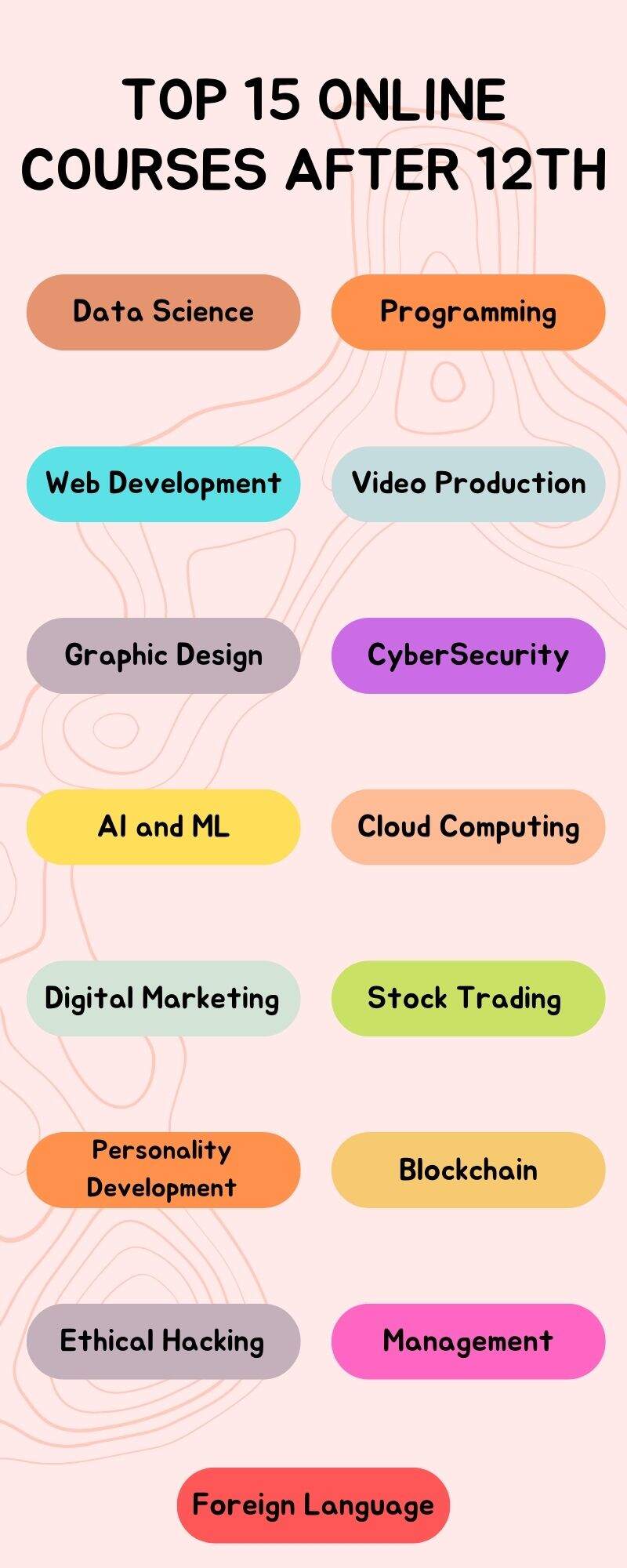 1. Data Science
Data plays an important role in running the whole world, directly or indirectly it affects every person's life in every aspect. With the rapid development of digitalization among people, data science has emerged as the main branch of the future. Even in many parts of the world Data Science is called the fourth paradigm of science.
For those who don't know what data science means, it is the study of any domain using field expertise, statistics, algorithms and advanced analysis, and looking through it all to find useful and overlooked information that affects the entire domain. In today's time, every industry uses data science to become better and predict future growth.
No matter in which field you make your career but data will make you more advanced and opportunistic in nature. Moreover, for those who want to pursue a career as a Data Analyst, Data Scientist, Machine Learning Engineer, Business Analyst or any other related profession, taking an online Data Science course after 12th would be the best option.
2. Programming
I hope you know what is programming it is basically writing code in programming languages ​​and running successfully in the front end. Many languages ​​are used to write code. HTML, CSS, JavaScript, and Python are some of the coding languages ​​and also these languages ​​are considered easy to learn. All the resources and information on the Internet are made of code somewhere in the background.
Programming also performs many highly complex tasks in very simple ways. So, if you did not learn a programming language in your 10+2, then this is a good time to take an online beginner course in programming. A course in programming can enable you to understand all the basic concepts of coding and also make you aware of the importance of this domain.
3. Web Development
Web Development is very related to the above course which you just read. Web development, also known as website development, refers to the tasks associated with the design, creation, and maintenance of websites using various programming languages. It is one of the popular and job-oriented fields among people as the growth of web development has seen a boom in the last 5 years. Many programming lovers turn their interest towards web development because of its job opportunities.
So, for those of you who have studied programming in 10+2 and now want to get a brief idea about this field, then taking a short-term web development online course is a good decision for you.
4. Video Production
Want to do something new and acquire new skills after passing 12th? If so, then video production is something you should look into. This course also attracts students who have an interest in videography, filmmaking, video editing, cinematography, and similar field of video production. Video Production is basically the whole process of making a video.
With the rapid growth of video format knowledge across the world, the craze for video-making is increasing among people and people also see video content creation as an emerging profession. Video information platform Youtube is the best example, YouTube has millions of content creators who make videos and earn handsome amounts of money regularly.
5. Graphic Design
Graphic designing is also a domain which is slightly related to the field which you just read above. The difference between graphic designing and video production is that video production involves creating videos, while graphic designing involves creating images. Graphic design is considered to be one of the popular fields among people during this time, many students often consider doing graphic design courses after completing 12th.
Graphic design is also one of the best ways to represent something in an image using text and visual resources. This is an area that requires creativity and uniqueness. There are multiple free as well as paid graphic designing courses made on the internet. You just enrol in one of them and explore the taste of graphic design.
6. CyberSecurity
As digitalization continues to grow, as consequence it also increases the cases of data breaches and cyber-attacks. Most companies and businesses that have an online presence are constantly facing cyber-attacks on a regular basis. In view of increasing cyber crimes, the demand for security experts has also increased. Cyber ​​security is simply protecting internet-connected systems such as software, hardware devices and data from cyber threats.
Talking about the last few years, cyber security is a new field in which very few people are going, this is also because people do not know much about this field. But now people are getting aware of these things and looking at cyber security as a new career path for their career goals.
7. Artificial Intelligence and Machine Learning
I can say that Artificial Intelligence (AI) and Machine Learning (ML) is the most advanced and modern course of this entire online course after 12th list. I hope you already know the meaning of Artificial Intelligence and Machine Learning. For example industrial robots, smart assistants, and self-driving cars are the best examples of this in our lifestyle. The importance and use of AI and ML are increasing day by day everywhere.
Artificial intelligence and machine learning emerge as major branches of higher-level studies. Many colleges and institutes have started offering UG and PG-level degrees in AI and ML. If you want to take a short dive into artificial intelligence and machine learning then an online beginner course in artificial intelligence and machine learning is the best you can try.
8. Cloud Computing
Cloud computing is one of the most technical fields to step into. Most of you may not know about cloud computing. Cloud computing is the delivery of various services via the Internet, including data storage, servers, databases, networking, and software. If it is explained on the basis of an example, then every website or application running on the web such as Google and YouTube is using cloud servers to deliver their services.
Cloud computing requires technical knowledge. Therefore, for those of you who already have technical skills, cloud computing is a good domain to explore. It is also futuristic and opportunistic in nature. You can easily find a lot of courses from beginner to advanced on cloud computing on the web.
9. Digital Marketing
Digital marketing is a new way of marketing which emerges with the increasing reach of internet among the people and is very popular. Digital marketing, also known as online marketing, refers to advertising delivered through digital channels to promote brands and engage potential customers using the Internet and other forms of digital communication. Digital Marketing includes topics like Search Engine Optimization (SEO), Content Marketing, Social Media and Marketing Analytics, Content Writing, and Search Engine Marketing (SEM).
Taking an online digital marketing course is a good option after 12th as it provides a variety of knowledge in a single bucket and will also let you know how many opportunities are there in this domain.
10. Stock Trading
Do you come from a commerce background and are interested in accounting and finance? If yes then you most like to do an online stock trading course because it is very relevant. Investing and trading stocks among people is increasing day by day, now people see stocks as a good future investment. Stock trading means buying and selling shares of an entity listed on the stock exchange and also trying to make money on price changes.
With the development of online stock trading and investment platforms, the growth of stock traders is also increasing, people consider stock trading as a good profession and a job-oriented career option.
11. Personality Development
May or may not but a good personality can create a good image of you in every aspect of life. The personality development course is a non-technical but very valuable course for students of every stream. For those who do not know the meaning of personality development, it is the development of organized patterns of behaviour and attitudes that make an individual unique.
A beginner in personality development is a suitable course for every student who browsing online courses after 12th on the web. It helps in your future career and also increases your chances of getting selected for job interviews.
12. Blockchain
Have you heard about cryptocurrencies like bitcoin and Ethereum, I hope you must have heard about them. They are built on blockchain technology. Blockchain is a digitally distributed, decentralized, public ledger that exists in a network, it simply means that blockchain is a system of recording information in a way that makes it difficult or impossible to change, hack, or defraud the system gives.
However, blockchain technology is new to most technical people. If you want to get an overview and understand the fundamentals of blockchain technology then it is good to complete a basic online course in blockchain technology.
13. Ethical Hacking
Ethical hacking is a bit like the cyber security course which you have read above in this article. The difference is that ethical hacking is done by 'ethical' hackers who are legal hackers, and their job is to hack with the permission of the owner. They are doing it with good intentions and for a good purpose. Ethical hacking is a technical domain which requires a lot of technical knowledge and also programming languages.
So if you are one of those people who are attracted towards hacking and want to make a career in the field of hacking then you can do a beginner online course in ethical hacking from any good online course provider website.
14. Management
An online course in the field of Management helps students to develop leadership behaviour, decision-making power, hardworking, and achiever nature in their lifestyle. Management is an essential skill in every industry and every field. Management plays a vital role in successfully running companies and businesses around the world.
Management is the art of getting things done through people using available resources needed to achieve goals effectively and efficiently. A short-term management course is the best option for every student who has successfully passed 12th and wants to learn a new skill by doing an online course in their spare time.
15. Foreign Language
Very few students are interested in learning new languages. Learning a foreign language is an open door to exploring new cultures, and new ways of living and enhancing your knowledge. Language learning is also essential for students to function effectively in the modern global marketplace. Learning a foreign language also means that being bilingual opens up a whole new world of travel opportunities.
If you want to learn something new in your spare time after 12th then choose any foreign language and try to understand and learn it. In today's era, beginner to advanced courses is made in most foreign languages. There are many language learning platforms available on the web that offer courses in most languages.
Online Courses after 12th Science PCM PCB
| Course Name | Duration | Provider |
| --- | --- | --- |
| Basics Quantum Physics | 1 Week | Udemy |
| Bioinformatics | 3-6 Months | University of California San Diego |
| Introduction to Psychology | 1-3 Months | Yale University |
| Entrepreneurial Operations: Launching a Startup | 1 Month | Babson |
| Introduction to Medical Imaging | 1 Week | Udemy |
| The Foundations of Happiness at Work | 1 Month | Berkeley |
| Learning How to Learn | 1-4 Weeks | Deep Tech Solutions |
| Fundamentals of Project Management | 3 Months | The University of Adelaide |
| The Science of Happiness at Work | 3 Months | University of California |
| Introduction to Data Science | 3-6 Months | IBM Skills Network |
Online Courses after 12th Commerce
| Course Name | Duration | Provider |
| --- | --- | --- |
| The Complete Introduction to Accounting and Finance | 1 Week | Udemy |
| Analyzing Data with Excel | 1 Month | IBM |
| The Business of Project Management | 1 Month | Advancing Women in Tech |
| Accounting in 60 Minutes | 1 Week | Udemy |
| Excel for Beginner | 1 Month | DavidsonX |
| Launch your Online Business | 1 Month | The State University of New York |
| Business Analysis | 1 Day | Udemy |
| Foundations of Finance | 1 Month | University of Cambridge |
| Pricing Strategy Optimization | 3 Months | University of Virginia |
| International Marketing & Growth Industry Growth | 3 Months | Yonsei University |
Online Courses after 12th Arts
| Course Name | Duration | Provider |
| --- | --- | --- |
| Microeconomics Principles | 1-3 Months | University of Illinois at Urbana-Champaign |
| Art History Renaissance to 20th Century | 2 Months | Udemy |
| Learn to Think Like a Philosopher | 1 Month | Udemy |
| Religion, Conflict and Peace | 2 Months | HarvardX |
| Masterpieces of World Literature | 3 Months | HarvardX |
| Global Diplomacy | 3 Months | University of London |
| Moral Foundations of Politics | 3 Months | Yale University |
| Big History: Connecting Knowledge | 3 Months | Macquarie University |
| International Law in Action | 3 Months | Universiteit Leiden |
| Language, Proof and Logic | 3 Months | Stanford online |
Online Certificate Courses after 12th
| Course Name | Provider |
| --- | --- |
| Writing in the Sciences | Standford University |
| Successful Negotiation | University of Michigan |
| Financial Market | Yale University |
| The Science of Well Being | Yale University |
| Introduction to User Experience Design | Georgia Institute of Technology |
| Understanding the Brain | The University of Chicago |
| International Women's Health and Human Rights | Standford University |
| What is the Metaverse? | Meta |
| English for Career Development | University of Pennsylvania |
| Principles of Sustainable Finance | Erasmus University Rotterdam |
Online Diploma Courses after 12th
| Course Name | Duration |
| --- | --- |
| Diploma in Operations Management | 1-3 Months |
| Diploma in Legal Studies | 1-3 Months |
| Diploma in Mental Health | 1-3 Months |
| Diploma in Hospitality and Tourism | 1-3 Months |
| Diploma in Marine Diesel Engines | 3-6 Months |
| Diploma in Dairy Technology | 1 Year |
| Diploma in Creative Writing in English | 6 Months – 1 Year |
| Diploma in Fish Products Technology | 1 Year |
| Diploma in Nutrition and Health Education | 1 Year |
| Diploma in Waste Management | 6 Months – 1 Year |
Short Term Online Courses after 12th
| Course Name | Duration |
| --- | --- |
| Certificate in Mobile Photography | 1 Month |
| Certificate in MS Office | 1 Month |
| Certificate in Computer Basic | 1 to 2 Months |
| Certificate in Business Fundamentals | 1 Month |
| Certificate in Tally | 1 Month |
| Certificate in Basic Journalism | 1 Month |
| Certificate in Police Administration | 2 Months |
| Certificate in Social Work | 3 Months |
| Certificate in E-Commerce | 3 to 6 Months |
| Certificate in Event Management | 3 to 6 Months |
| Certificate in Beautician | 3 to 6 Months |
| Certificate in Graphic Design | 3 to 6 Months |
| Certificate in Mobile Phone Repairing | 3 Months |
| Certificate in Professional AutoCad | 3 Months |
Free Online Courses after 12th
| Course Name | Provider |
| --- | --- |
| The Science of Well-Being | Coursera |
| Social Media Marketing | LinkedIn Learning |
| Introduction to SEO | Skillshare |
| Google Analytics Certification | Google |
| Google IT Support Professional Certificate | Google |
| Introduction to Cloud Computing | Udemy |
| Introduction to Computer Science | Edx |
| Getting Started with Microsoft PowerShell | Microsoft |
| Business Foundations | Coursera |
| Project Management | LinkedIn Learning |
| JavaScript for Beginner | Skillshare |
| Meet your brain: a short introduction to neuroscience | Udemy |
Best Online Courses Websites
Udemy
Coursera
LinkedIn Learning
Simplilearn
Skillshare
HubSpot Academy
Udacity
edX
Harvard University Online
Google Digital Garage
Shaw Academy
Microsoft Learn
Advantages of Online Courses
Online courses deliver study to your home.
Online courses increase convenience and flexibility.
Online courses save a lot of time in every aspect.
Online courses offer a wide range of courses at your desk.
Online courses are comparatively low-cost in nature.
Online courses increase the focus on studies.
Frequently Asked Questions (FAQs)
Can I study online after 12th?
Yes, you can definitely study online after 12th.
What types of online course is best?
Courses that are skills-based and job printing in nature are the best courses.
Can we do online diploma after 12th?
Yes, you can definitely do online diploma course after 12th. There are many provider website and institutes that offer online diploma in multiple domain.
Which certificate can I get in 3 months?
There are multiple certificate courses are available that duration is 3 months. Some of 3 months certificate course are in marketing, basic computer, medical billing, truck driver.