Do you have passion and interest in mechanical engineering and want to make your career in this field by pursuing an ITI tractor mechanic course? If yes, then you are at the right place because, In this article, you will find the complete information about the tractor mechanic ITI trade.
Tractor mechanic is one of the popular trade in ITI also known as the sub-branch of mechanical engineering because this trade is very much similar to mechanical. It is a short-term skill-based vocational course which consists of only 1 year of duration. This course covers all the aspects of the mechanic tractor. The minimum educational qualification that needs to enrol in the ITI tractor mechanic course is 10th.
Tractor mechanic ITI trade is classified under the Craftsman Training Scheme (CTS) and approved by the National Council of Vocational Training (NCVT). This trade is available in many ITI colleges across the country. However, the admission process of ITI colleges may vary from state to state. Now without any delay let's look at various aspects of ITI Electrician course one by one.
ITI Tractor Mechanic Course: Overview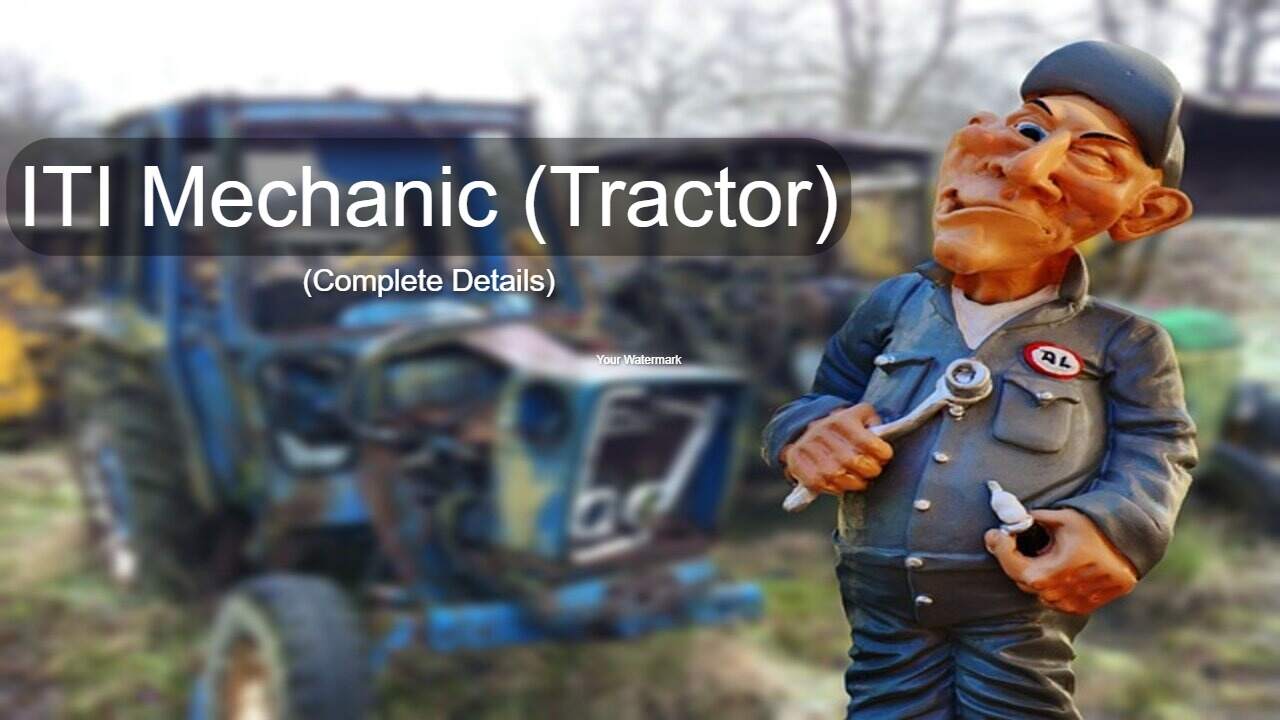 Course
ITI (Industrial Training Institute)
Trade Name
Mechanic (Tractor)
Level of Course
Certificate
Course Duration
1 Year
Eligibility
10th
Admission Process
Direct/Merit/Entrance
Course Fees
₹5,000 – ₹20,000 (Government)
₹5,000 – ₹50,000 (Private)
Jobs Salary
₹10,000 – ₹15,000 per month
What is Tractor Mechanic in ITI?
Tractor mechanic is a trade in ITI which deals with the study of tractor components, mechanical tools & equipment, types of shaft, fasteners, drilling machine, sheet metal, electricity principles, fuses, circuit breakers, resistors, capacitors, batteries & cells, engine basics, engine components, cooling systems, lubrication system, carburettor operation, clutch, braking systems, tractor electrical maintenance, and many more terms which is related to mechanic tractor.
During the course you will learn repairing components, using hand-tools, power tools, testing of instruments, starting engine, reading meters, diagnose engine malfunction, assembles & disassembles engine, study of different types of ecrews, nuts, studs, bolts, locking devices, such as lock nuts, cotter, split pins, keys, circlips, lock rings, lock washers and locating where they are used.
ITI Tractor Mechanic Course Eligibility
Candidates must fulfil these eligibility criteria in order to take admission in ITI college. Eligibility criteria are as follows:
Candidates must have passed in 10th standard.
Candidates should passed from a recognized board of education.
Candidates should get at least 40% marks in their 10th examination.
Candidates should be above 14 years of age.
Tractor Mechanic ITI Duration
The duration of ITI tractor mechanic course is 1 year.
Distribution of training hours across different curriculum elements
during the period of one year are as follows:
| Course Element | Hours |
| --- | --- |
| 1. Professional Skill (Trade Practical) | 1000 |
| 2. Professionla Knowledge (Trade Theory) | 280 |
| 3. Workshop Calculation & Science | 80 |
| 4. Engineering Drawing | 80 |
| 5. Employability Skills | 160 |
| Total | 1600 |
Also Read:- ITI Sheet Metal Worker Course
Tractor Mechanic Syllabus ITI
Professional Skills
Practical related to safety and health
Importance of maintenance
Safety disposal of used engine oil
Energy saving tips
Layout a work piece
General workshop tools & power tools
Measuring practice on valve spring free length
Practice to check engine manifold vacuum
Practice on general cleaning
Removal of stud/bolt from blind hole
Practice on hacksawing
Cutting threads on a bolt/stud
Practice on making rectangular tray
Soldering and brazing of pipes
Testing of relay and solenoids
Setting of gas welding flames
Hydraulic and pneumatic components
Tracing of hydraulic circuit
Components in air brake systems
Starting and stopping of tractor engine
Remove cylinder head from engine
Cylinder block overhaul
Removing oil sump and oil pump
Practice on removing the piston rings
Check connecting rod for bend and twist
Connecting road big end & main bearing
Cooling system for overheating/under-cooling
Checking of thermostat valve
Adjusting the fan belt tension
Lubrication oil flow circuit in an engine
Testing oil pressure
Serviving of air cleaner
Checking of exhaust gas recirculation
Catalytic converter removal
Repair tractor carburetors
Tracing of different parts of fuel system
Serviving of pressure pump
Setting injection timing
Dismantle clutch assembly
Inspect the parts of clutch
Relining of clutch plate & assemble
Assemble the gear box
Overhauling of differential
Reassembling steering assembly
Lubricating a suspension system
Setting parking brakes
Seriving storage batteries
Professional Knowledge
Admission & introduction to the trade
Occupational safety & health
Energy conservation
Hand & power tools
Systems of measurement
Micrometers
Fasteners
Function of gaskets
Cutting tools
Limits, Fits & Tolerances
Drilling machine
Taps and Dies
Hand Reamers
Sheet metal
Joints fastening methods
Basic electricity
Fuses & circuit breakers
Batteries & cells
Basic electronics
Introduction to welding and heat treatment
Welding processes
Principles of arc welding
Non-destructive testing methods
Introduction to hydraulics & pneumatics
Engine basics
Principle & working of 2 & 4
Engine components
Description of cylinder block
Cylinder block construction
Cooling systems
Cooling system components
Lubrication system
Intake & exhaust systems
Intake system components
Exhaust system components
Carburetor operation
Fuel systems
Clutch
Manual transmissions
Final drive & drive shafts
Steering & suspension systems
Wheels & tyres
Braking systems
Braking system components
Drum brakes & components
Tractor equipment
Tractor electrical maintenance
ITI Tractor Mechanic Course Fees
The course fees for ITI tractor mechanic trade is mainly depend on which types of ITI college you take admission. If you take admission in government ITI college then your course fees is lesser as compared to private ITI college. Average fees for both of ITI colleges are as follows:
Government ITI:- ₹5,000 – ₹20,000
Private ITI:- ₹5,000 – ₹50,000
Tractor Mechanic ITI Scope
The scope of ITI tractor mechanic course is good because the quantity of students are increasing who have interest in the mechanical field. As far as jobs opportunities are concerned then it also increasing because we all are well aware about how the industrialization is growing in our country. As result, the jobs vancies in this industry is growing day by day.
ITI Tractor Mechanic Salary
The salary you get in a job after successfully completing ITI tractor mechanic course is around INR 10,000 to INR 15,000 on monthly basis. However, the salary is depend on many factors such as candidates skills, experience, work profile, behavior, etc.
Average Salary:- ₹10,000 to ₹15,000 per month
Tractor Mechanic ITI Book
| Book Name | Publisher |
| --- | --- |
| 1. ITI Mechanic Tractor Theory Hindi | B.R. Prajapati |
| 2. Mechanic Tractor Theory | Arihant |
| 3. Mechanic Tractor Theory (Hindi Edition) | Guru Datt Sharma |
| 4. Mechanic Tractor Theory (Hindi Edition) | Arihant |
Also Read:- ITI Foundryman Course
Tractor Mechanic ITI College
| College Name | Location |
| --- | --- |
| 1. Government ITI Srikona | Cachar, Assam |
| 2. Government ITI Bhiwani | Bhiwani, Haryana |
| 3. Government ITI Tohana | Fatehabad, Haryana |
| 4. Government ITI | Gurugram, Haryana |
| 5. Government ITI Shahpur | Kangra, Himachal Pradesh |
| 6. Government ITI | Kurukshetra, Haryana |
| 7. Government ITI | Amritsar, Punjab |
| 8. Government ITI | Moga, Punjab |
| 9. Government ITI | Ahmedabad, Gujarat |
| 10. Government ITI Pusa | Central Delhi, Delhi |
Frequently Asked Questions (FAQs)
What is the duration of ITI mechanic tractor?
The duration of the ITI tractor mechanic course is one year.
What is the average salary get after ITI tractor mechanic?
The average salary that one get after completing ITI tractor mechanic course is ₹10,000 to ₹15,000 on monthly basis.