Are you searching for the latest syllabus for UKG class? If yes, then don't worry because you landed at the right place. In this article, I will share the complete syllabus of UKG class including subjects like English, Maths, Hindi, EVS, and GK.
UKG stands for Upper Kindergarten and it is also known as KG2. UKG is a preschool education for children. It is a class in which children learn new things by interacting with other children.
This preschool education plays a very important role in children's life. This preschool class syllabus like the UKG syllabus has been designed in such a way that it developed the mental, physical, and emotional power of children.
Childhood is the first phase where the development of a child begins. So, children can learn the ability of learning, remembering, focusing, studying, etc by going to preschool classes like UKG.
Generally, children who completed their LKG Syllabus and passed in LKG are gone to the next preschool class called UKG.
UKG Syllabus 2023-24:- The CBSE board (https://www.cbse.gov.in/) has released the latest syllabus for UKG class. There are mainly four subjects that come under the UKG syllabus. In this article, I will provide the complete UKG class syllabus for all the subjects.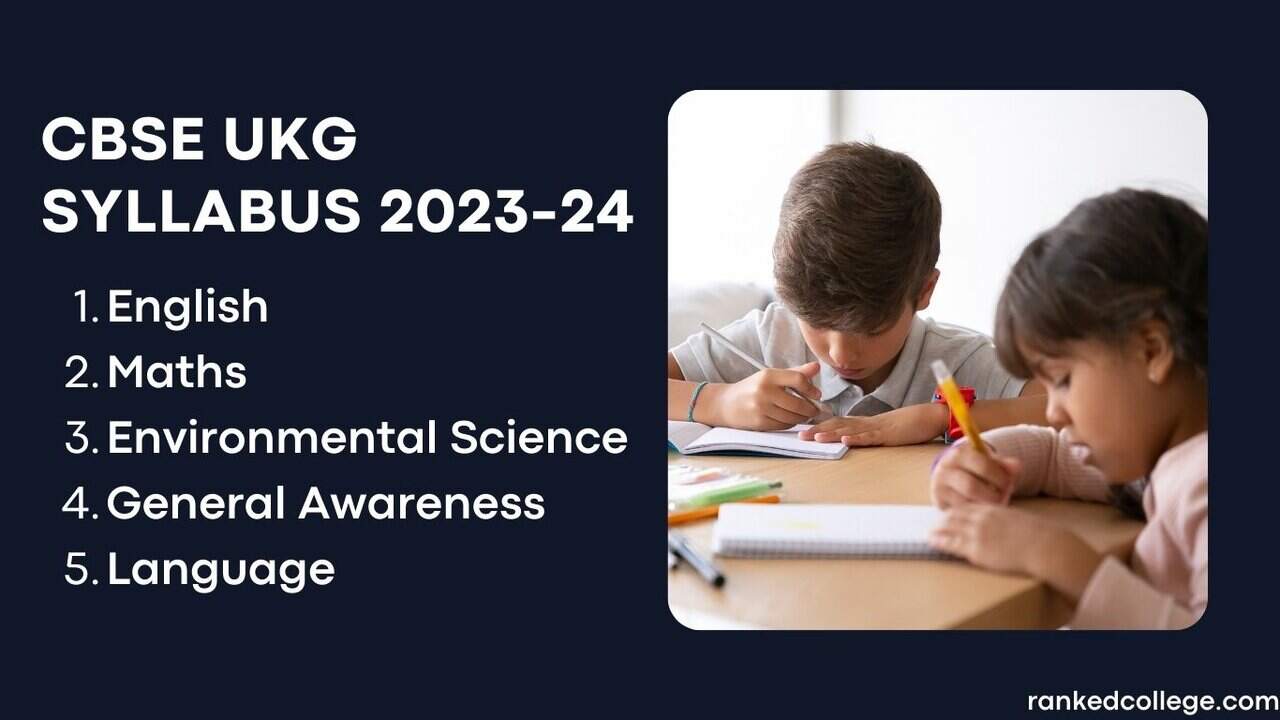 UKG Syllabus CBSE 2023-24: Subjects
| S No. | UKG Subjects |
| --- | --- |
| 1 | English |
| 2 | Mathematics or Maths |
| 3 | Environmental Science |
| 4 | General Awareness |
| 5 | Language (Hindi, Malayalam, Bengali, etc) |
Best Book Set for UKG Kids on Amazon – Most Popular Boxset of 8 Books (All Subjects)
1. UKG English Syllabus
A. Letters (AA – ZZ)

Identification
Vowel Words
Vowel and Consonants
Article a/an
Positions
Objects related to letters
Rhyming words
One-many
Sound of letters
This-That & These-Those

Reading words and sentences aloud. Children should interact in social conversations.
Children must use genie boards, flashcards, oral interaction, written work, worksheets, storytelling, and enactment to explore their creativity.
Making sentences with certain words or structures, picture composition, and use of 'in', 'on', and 'under' in sentences.
Revision of the English language basics.
2. UKG Maths Syllabus
1. Pre-Maths Concepts
• Right-Left
• In-Out
• Heavy-Light
• Thick-Thin
• Top-Bottom
• Front-Back
• Big-Small
• More-Less
• Same-Different
• Tall-Short
• Full-Empty
2. Numbers (1-200)
• Time
• Picture Addition
• Money
• Writing
• Number Names (1-50)
• 1 Digit Addition
• 1 Digit Subtraction
• Picture Subtraction
• Skip Counting 2 & 5
• Count and Write, Colour and Match
• Addition and Subtraction without Objects or Pictures
• Simple addition & Subtraction Using Objects
• Forward and Backward Counting (1-50)
• Before, After, and Between numbers (1-100)
• Putting Signs like '>', '<' and '='
3. Shapes
• Triangle
• Rectangle
• Square
• Circle
• Semi-Circle
• Oval
• Diamond
4. Colours
• Black, White, Pink
• Red, Yellow, Blue
• Orange, Green, Purple
3. UKG Environmental Science (EVS) Syllabus
Talking about all types of transport as well as proving a demonstration of vehicles
A visit to a police station or post office
Introduction to traffic rules and safety
Introduction to air, water and sound pollution
Project on a collection of a few living and non-living things
4. UKG General Awareness (GK) Syllabus
1. Myself
• My Home
• My Family
• My School
• Parts of Body
• Sense Organs
2. Seasons
• Summer
• Rainy
• Winter
3. Transport
• Water
• Land
• Air
4. Animals
• Water
• Wild
• Farm
• Domestic
• Pet
• Animals and Their Young Ones
• Animals and Their Sounds
5. UKG Hindi Syllabus
1. स्वर (अ-अः)
2. व्यंज़न (क-ज्ञ)
3. मात्राओ का ज्ञान (अ-अः)
4. व्यंज़न (क-ज्ञ) मात्राऍ लगाना ।
5. एक – 2 मात्रा हर एक व्यंजन पर लिखकर सिखाया जाता हेै ।
6. दो मात्रा (अ,आ) दोनो एक साथ लिखकर सिखाया जाता हेै
क्र + अ :- क
क्र + आ :- का
Related Read:- Nursery Syllabus CBSE 2023-24
UKG Syllabus CBSE 2023-24 Pdf Free Download
Click the download button to download the CBSE UKG syllabus in PDF format.
UKG Syllabus Video
You can also watch the UKG Syllabus in Video format for all subjects.
Frequently Asked Questions (FAQs)
How many terms are there in UKG?
There are two numbers of terms, Term 1 and Term 2.
How many subjects are there in UKG class?
1. English
2. Mathematics or Maths
3. General Awareness
4. Environmental Science
5. Language Subject (Hindi, Marathi, Bengali, etc.)
What is the average age of a child in UKG class?
The average age of UKG class children is 5 to 6 years old.
What is the purpose of the UKG syllabus?
The purpose of the UKG syllabus is to develop the mental, physical, and psychological abilities of children.
Conclusions
I hope you get your answer to this post. Suppose you have any doubts or queries then do comment down below. I will try to respond as soon as possible.