In today's competitive world, you know that it is difficult to get a job with just a bachelor's degree. Recruiters in various companies now give more preference to students who have additional skills apart from their graduation degree. So for that getting an additional qualification in your respective stream after graduation opens up a good job as well as career opportunities in your life.
In general, many graduates want to do a short-term professional course with an ambition to improve their corporate life by getting higher positions or higher salary packages. At the same time, there are some people who just want to do short-term courses after graduation so that they can learn new skills and utilize their spare time for the betterment of their future.
Are you also going through the same situation and looking for some good short-term professional job-oriented courses after graduation on the internet? If yes, then your search is over as you have landed on the right site. In this article, I will discuss some of the best short-term courses after graduation whose duration ranges from 3 months to 6 months.
Taking courses for 3 to 6 months after graduation can improve your skills and provide you with a professional certificate in the relevant domain and based on this you can improve your job prospects. Also taking a course gives you a definite competitive edge in various aspects.
Now without any further delay let us talk about the short-term courses after graduation which are professional and job oriented in nature one by one.
Best 6 Months Courses after Graduation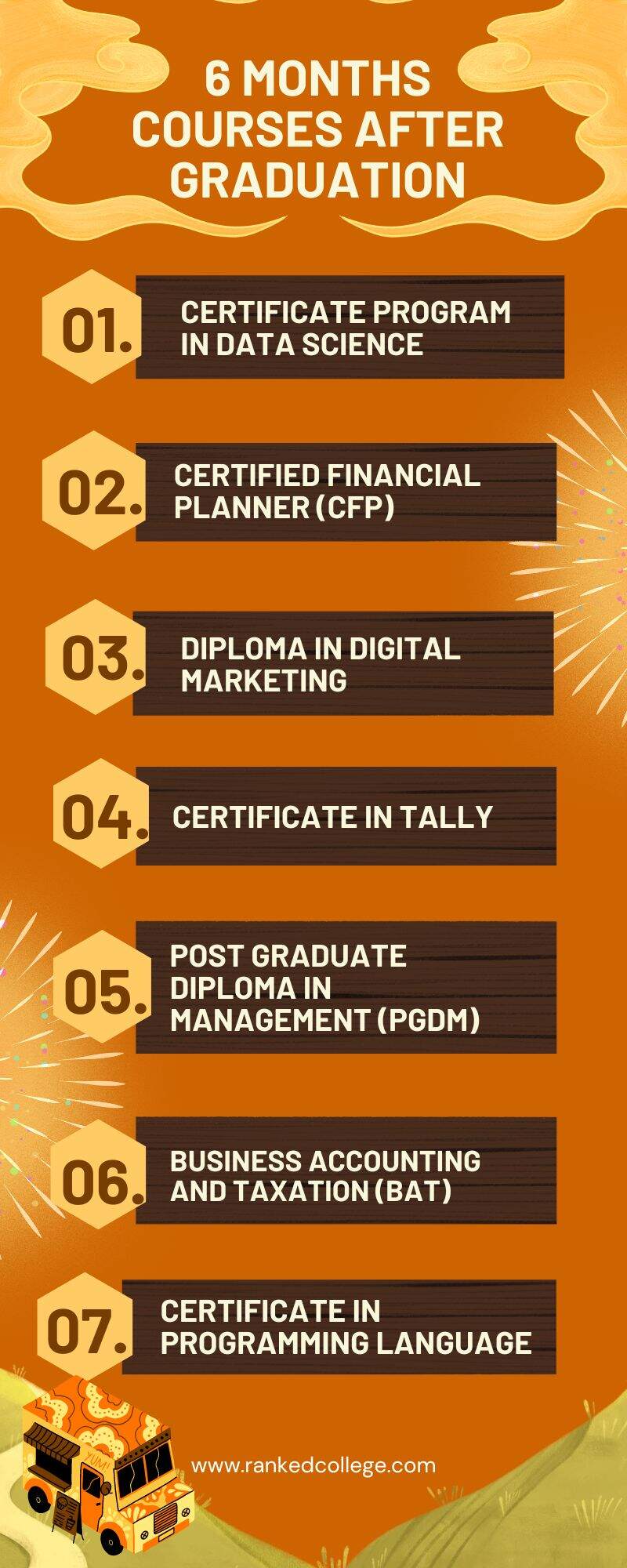 Certificate Program in Data Science
In this modern era, everything is running on the basis of data. Whether we know it or not, data directly or indirectly affects every aspect of our lives. With the increase in the reach of the internet, the importance of data science is more valuable. As a result, the popularity of data science courses is increasing rapidly among students. For the past few years, students are taking more interest in doing short-term data science courses after graduation.
It doesn't matter which stream you belong to, pursuing a professional program or short-term course in Data Science unlocks within you the ability to think about everything with real data. There are many courses ranging from 3 months to 2 years in duration that are built around Data Science at online as well as offline educational venues. You can choose any level of course based on your learning interest.
Certified Financial Planner (CFP)
In general, as the literacy rate is increasing day by day, the importance of financial education is also increasing among people. Now people are more conscious about their money and invest and manage money wisely. For someone whose work revolves around money, business and accounts, knowledge of finance are very important.
The Certified Financial Planner course is one of the best short-term courses after graduation offered by FPSB India for students and working professionals who have passed out from the relevant stream. You can complete the CFP course by taking admission to reputed institutes like the Indian Institute of Business, SIBM Coimbatore, SIBM Patna, and ISBM Guwahati.
Diploma in Digital Marketing
I hope you must have heard about digital marketing in recent years. Digital Marketing is one of the trending domains today as it offers tremendous employment opportunities and opens the door to learning new skills like SEO, Social Media Marketing, Website Analysis, Target Advertising, etc. There are no fixed criteria to complete the course in digital marketing, anyone from undergraduate to graduate can opt for this program.
There are many educational institutes online and offline that offer Diploma Courses in Digital Marketing with duration ranging from 6 months to 1 year. After graduation, you can take admission to any reputed institute and learn digital marketing.
Certificate in Tally
Accounting is something that is used by all industries around the world to manage their business and collect their record. There is a lot of scope in this field from a job point of view as well as from a knowledge point of view. Students interested in accountancy and coming from the accountancy stream must do a tally course after graduation without any hesitation. It is considered one of the best short-term courses because of its duration. The duration of the certificate in tally course ranges from 3 months to 6 months.
Certificate in Tally Course after graduation provides understanding and knowledge of various concepts of accountancy. Also enables you to easily get a job in the field of accountancy.
Post Graduate Diploma in Management (PGDM)
Post Graduate Diploma in Management is one of the best short-term job-oriented professional courses after graduation for students who come from a management background or are interested in management and want to make a career in the management field. PGDM offers a wide range of specializations in multiple fields, which makes PGDM different from other courses. It is also said that PGDM is very similar to MBA.
There are various educational institutes in our country as well as abroad which offer Post Graduate Diploma in Management programs to undergraduate students. As it is a professional course that after successful completion of the course gives you a PG degree in the relevant stream. Depending on the degree you can get job opportunities in various high-salary packages.
Business Accounting and Taxation (BAT)
Business Accounting and Taxation is a short-term professional course after graduation which attracts only those students who come from a relevant background and pursue this course to get a job or to enhance their knowledge. It is just a niche-oriented course which mainly focuses on the advanced study and understanding of business and taxation. While studying in this course you will learn about SAP, Quick Books, Sahaj and many more.
Usually, educational institutions offer this Business Accounting and Taxation (BAT) course for a duration of 3 months to 6 months. After completing this program, you can explore diverse career possibilities in a similar domain.
Certificate in Programming Language
A certificate in Programming Languages ​​is the best course after graduation for those who have an interest in coding and want to make a career as a software developer. Learning a programming language can develop creativity and uniqueness as everything created using code requires creativity. Many programming languages ​​have been invented, you can learn any one you are comfortable with.
HTML, CSS, C++ Javascript, Python, PHP, SQL, Kotlin, Go are some of the popular programming languages that are used in current time. There are many websites that offer online certification courses in programming languages. You can enroll in your interested programming course and complete it.
Also Read:- Best Online Courses after 12th
Diploma Courses after Graduation in Arts
| Course Name | Duration |
| --- | --- |
| PG Diploma in Communications & Media Studies | 1-2 Years |
| PG Diploma in Journalism and Communications Media | 1 Year |
| PG Diploma in Hotel Management | 1-2 Years |
| PG Diploma in Travel and Tourism | 2 Years |
| PG Diploma in Public Health | 2 Years |
| PG Diploma in Journalism | 1 Year |
| PG Diploma in Fine Arts | 1-2 Years |
| PG Diploma in Urban Design | 1 Year |
| PG Diploma in Public Policy | 1 Year |
| PG Diploma in Interior Design | 2 Years |
Diploma Courses after Graduation in Science
| Course Name | Duration |
| --- | --- |
| Post-Graduate Diploma in Computer Applications | 1 Year |
| Post-Graduate Diploma in Industrial Safety | 1 Year |
| Post-Graduate Diploma in Mathematics | 2 Years |
| Post-Graduate Diploma in Statistics | 1 Year |
| Post-Graduate Diploma in Hospital Administration | 1 Year |
| Post-Graduate Diploma in Disaster Management | 1 Year |
| Post-Graduate Diploma in Rural Development | 1 Year |
| Post-Graduate Diploma in Marketing | 2 Years |
| Post-Graduate Diploma in Personnel Management | 1 Year |
| Post-Graduate Diploma in Food Safety and Quality Management | 1 Year |
Diploma Courses after Graduation in Commerce
| Course Name | Duration |
| --- | --- |
| Post Graduate Diploma in Financial Accounting | 1 Year |
| Post Graduate Diploma in Taxation | 2 Year |
| Post Graduate Diploma in Business Analytics | 2 Year |
| Post Graduate Diploma in Human Resource Management | 1 Year |
| Post Graduate Diploma in Advertising and Public Relations | 2 Years |
| Post Graduate Diploma in Banking and Finance | 2 Years |
| Post Graduate Diploma in International Business | 1 Year |
| Post Graduate Diploma in Advanced Accounting | 1 Year |
| Post Graduate Diploma in Logistics | 1 Year |
| Diploma in Business Management | 1 Year |
Also Read:- One Month Courses